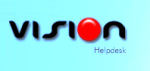 TheVisionWorld.com — Vision Helpdesk developers announced today that Webhost.UK.Net is its best performing partner of the month.
Webhost.Uk.Net is a leading UK based webhosting company; began its connection with TheVisionWorld in 2008 and since then its dedication to TheVisionWorld combined with ongoing proactive marketing work has made it one of Vision Helpdesk biggest distributors.
"Webhost.Uk.Net's professional and positive performance has contributed to consistently increasing sales over the last year." Preeti Sharma HR at TheVisionWorld said. She added "In June 2009 we will be launching Vision Helpdesk 2.0 beta version and certainly we can look upon Webhost.UK.Net as one of our trusted partners to promote Vision Helpdesk further."
Tyler Bristow, Sales Manager at Webhost.Uk.Net; said – "Vision Helpdesk is a Best Helpdesk for small to large organizations — It offers unique features like Satellite Helpdesk i.e Manage Multi-Company support through single helpdesk, Paid Support and Fast loading Ajax Interface" futher he said "After adding Vision Helpdesk as a value added service we have recorded an increased sales ratio in our reseller and vps hosting plans." Bristow, spoke graciously "I am very proud to promote Vision Helpdesk and am wondering how to do better in next months and the years after."
About TheVisionWorld.com : Vision Helpdesk is the ultimate modern help desk software, capable of handling multiple companies with various support areas and organize staff to their zones allowing the highest efficiency for support ticket replies. "Vision" provides the optimum combination of call management automation, functionality and flexibility, delivering a comprehensive Helpdesk solution that satisfies most of the IT service management requirements.
About Webhost.Uk.Net : WebHost.Uk.Net is UK's fastest growing and leading domain registration, web hosting provider. They specialize in offering linux and windows web hosting with whm / cpanel and Plesk control panels respectively. Offering the cheapest yet reliable, secure and quality hosting.
Please find more details here :- http://www.thevisionworld.com/webhostuknet-best-performer-of-the-month.html