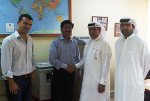 Kanoo Machinery's Export Department signs 4.2 million dirhams deal with Pexi Gulf to supply 12 units of Bobcat telehandlers.
Dubai, United Arab Emirates, June 1, 2009: Kanoo Machinery, one of the leading materials handling solutions providers in the Gulf, today announced that its export department has won a major contract from Pexi Gulf to supply 12 Bobcat telehandlers for Re-export. This 4.2 million dirhams deal is a result of the export department's expanded foray into the Middle East, Africa and Asia.
"Our export department is expanding its wings and has started developing new business in Asia and Africa as well. The deal for Bobcat telehandlers with Pexi Gulf is a result of our team's hard work to make inroads into newer markets," says Mr. Mohammed Al Hashimi Regional Manager – Export of Kanoo Machinery.
Pexi Gulf is leading supplier of vehicles, equipment and parts to government agencies as well as private contractors across the globe. Their portfolio ranges from supplying heavy machinery, trucks and equipment to mining and construction projects from places like the sub-Saharan Africa to the Caribbean.
"We are happy Pexi Gulf chose to go with Bobcat for their requirements. Bobcat telehandlers are truly flexible machines that can be equipped with a wide range of attachments for applications in construction, rental, public works, agriculture, landscaping, industry and many other activities. We are confident Pexi Gulf's customers in Asia will be satisfied with the speed and efficiency of these world-class machines," adds Mr. Al Hashimi
Bobcat telehandler, a multi-purpose utility machine that combines the speed, agility and strength of a skid-steer loader with the extended reach of a forklift, is designed to handle the customer's toughest jobs effortlessly and efficiently. Bobcat telehandlers use advanced technology providing optimum performance and manoeuvrability and a host of other advantages. Bobcat telehandlers offer excellent visibility, which is especially beneficial when operating forwards for picking up equipment, upwards for positioning at maximum height, all-round for manoeuvring and backwards for safety. Kanoo Machinery will be offering the customer after-sales support, maintenance and training on operating the new Bobcat telehandlers.
Kanoo Machinery's export department operates through its reseller partner network in Iran, Iraq, Yemen, Pakistan, Turkmenistan, and Afghanistan and in major African countries such as Libya, Congo, Angola, Nigeria, Kenya and Niger. As part of its strategic plan 2015, Kanoo Machinery's export department aims to develop further business from CIS countries as well.
-Ends-
About Kanoo Machinery:
Since its inception over 40 years ago, Kanoo Machinery has grown to become one of the foremost materials handling equipment distributors in the Gulf, offering a cross-border seamless service.
Kanoo Machinery provides its services to all sectors of the industry, offering a wide range of equipment and consumables from the world's leading manufacturers of welding, grinding, materials handling and maintenance products. In addition, Kanoo Machinery offers a full after-sales service through a network of workshops, parts and mobile service facilities throughout the Gulf and Arabian Peninsula.
Kanoo Machinery represents leading manufacturers such as Grove, Hyster, Perkins, Bobcat, Hiab, Massey Ferguson, Lincoln Electric, etc. Kanoo Machinery offers the following equipment and services:
• Mobile cranes
• Forklift trucks
• Warehouse equipment
• Welding machines and consumables
• Road sweepers and scrubbers
• Compressors
• Engines and marine gensets
• Repair and maintenance
• Rental of lifting equipment
• Parts and after-sales service
Kanoo Machinery has been involved in Quality Systems since 1997. It was first certified to ISO 9002:1994 and then was upgraded to ISO 9001-2000 across the region in 2001. Kanoo Machinery has won the Dubai Quality Appreciation Program Award 2001, the Sheikh Khalifa Excellence Award 2002, the prestigious Dubai Quality Award 2004 and has recently won Shaikh Khalifa Excellence Gold Award.
For further information, please visit
htt://www.kanoocom.com
Company Contact:
Mohammed AL Hashimi
Regional Manager – Export
The Kanoo Group
Machinery Division, Dubai, U.A.E
Tel : (+971) 4 3378400
Fax : (+971) 4 3373660
E-mail : salesmgr-exp@kanoo.ae