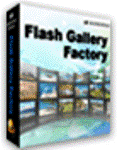 May 25, 2009– Wondershare Software Inc. has launched a new website: www.flash-gallery-software.com today to introduce the best digital photo to gallery flash software – Wondershare Flash Gallery Factory. You can get the easy and quick way to create stunning flash photo slideshow for online image or business presentation with the flash gallery software from the brand-new site.
What's flash gallery software?
A program can turn hundreds of digital photo to dynamic flash with output format as SWF, HTML or XML file in minutes. Wondershare Flash Gallery Factory offers you a wide range of 55+ free flash gallery templates which can make your flash more impressive to embed to MySpace, Blogger and other web pages.
Key features of Flash Gallery Factory
 Easy To Use. Intuitive interface let you create web photo gallery without flash or XML skill.
 For Personal Use. You can make flash photo gallery to show images on Internet or create wedding slideshow, graduation slideshow and digital photo album for MySpace and Blog to tell story in flash with music.
 For Business Use. You can make impressive flash slideshow for exhibition show and business presentation. What's more, dynamic flash banner for commercial website.
 Free Flash Gallery Templates. 30+ flash slideshow templates for wedding slideshow, business slideshow and other occasions; 15+ advanced flash photo gallery templates; 10+ new 3D flash gallery templates.
 Custom Slideshow Template. Built-in Flash Template Designer make custom unique templates easily.
 Large Capability. Add up to 400 images in one flash slideshow.
 Unlimited Audio. Add multiple background music for flash photo slideshow.
 200+ Transition and Pan/Zoom Effects. Bring still photos to life with stunning transition effects.
 Animated Text. Retouch flash photo gallery with animated description text.
 Hyperlink. Add text / image hyperlink for single slide or whole flash slideshow.
 Output Format. Publish as SWF slideshow, HTML File, Executable file (EXE) and Screensaver.
 Online Support. Quick and helpful online support.
Pricing and Availability
Download free flash gallery factory demo version and make the flash photo slideshow to share your memorial memories with families and friends online now. Only $49.95 can get the full version program.
About Wondershare Inc.
Established in 2003, Wondershare software is a multimedia software company that provides Windows multimedia applications for both business and home users such as Flash Gallery Factory, Photo Story Platinum, etc.. In this pursuit, the company is aware of the need for easy to use slideshow programs with reasonable price, its extensive software line enables users of all levels to edit, organize and manage their digital photos/video clips easily and effectively, then share the masterpiece on website, TV, mobile facilities, etc.
Contact:
Luna, Que Manager of Media Authoring Division
Wondershare Software Co., Ltd.
Tel: +86-755-86117747 Ext: 809
E-Mail: sales-pt@wondershare.com