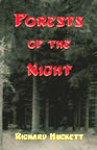 Summary: Richard Huckett's Forests of the Night is a fiction book based on historical events in Australia and in Germany during the twelve years of the Third Reich. During that disastrous era the German people were led by Adolf Hitler to sacrifice their own children on his demonic altar of Nazi nationalism. Without doubt, like Erich Neumann, many of the misled youths who survived those traumatic years sustained psychological wounds that marred the rest of their lives.
Brisbane, Australia. 6 May 2009: Richard Huckett, author of Forests of the Night, was raised in a timber and dairying town cleared from the primeval rain forest on the Atherton Tableland west of Cairns in North Queensland. As a toddler, Richard played with aboriginal children who survived the ruthless dispersal of the Mamu speaking clans, owners for eons of the jungle-clad gorges below the immemorial Millaa Millaa and Ellinjaa Falls. Ancestors of his lively piccaninny playmates bequeathed all Australians these fascinating aboriginal names after the Rainbow Serpent of the Dreamtime gouged a precipitous river gorge from The Tableland down to the Coral Sea.
Fiction book, "Forests of the Night" traces the often horrendous experiences that continue to confront Erich Neumann, a talented teenage Hitler Youth who is cast into Buchenwald Concentration Camp on New Year's Eve for 1942 because of a spontaneous act of human decency. An outcast in Germany after the war ended in 1945, a shattered Erich migrates to Australia as a Jennings German carpenter to help construct Canberra, Australia's new inland national capital.
Awarded a Queen Scout certificate as a teenager, Richard Huckett was also fascinated by stories related to him by former Hitler Youths who migrated to Australia after the Second World War. Forests of the Night, a fiction book deals not only with the disasters that befell a fictional group of teenagers who lived in Weimar during the Third Reich but also with the historical demise of the Mamu clans who once lived in the rain forest that canopied the North Johnstone River.
Inspired by a mysterious Irish recluse prospecting for gold in the Palmerston rain forest in Far North Queensland, Erich finally finds happiness in drawing Celtic illustrations for Irish school books and in a budding love affair with a nursing Sister at Innisfail District Hospital.
However, in a jungle that once teemed with Mamu speaking aborigines, Erich encounters another efflorescence of evil. Hunted by desperate teenagers, he is forced to draw on all his Hitler Youth training and his Buchenwald organizing skills to survive in this alien, vine-shrouded forest of the night. Will he survive this onslaught?
Forest of the Night, priced at US$22.95, the eBook can be purchased online only at: http://sunset-digital-books.com/fiction/hitler-youth/index.html
About Sunset Digital Books
The Internet's most innovative online bookstore provides the opportunity for authors and self-publishers to sell their professionally produced books in digital format only (eBook), direct to the public via the Internet. For more than 25 years, Sunset Digital has been providing publishing services to major book publishers and self-publishers.
For further information, including a PDF extract of this digital book, contact:
Richard Hudson
CEO, Sunset Digital Books (http://www.sunset-digital-books.com)
"The Internet's most innovative bookstore"
Phone: 617 32369898
Email: ceo@sunset-digital-books.com
###
Keywords: hitler youth, hitlers youth, third reich, fiction book, hitler third reich, forests of the night