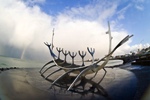 Summertime in Iceland brings endless daylight and lush green panoramas broken only by the many colourful wild flowers. While the warmth nurtures nature back to vibrant life, so too do Iceland's human inhabitants get busy with a myriad of events and activities.
A few of the highlights in June, July and August each summer include events spanning from Culture Night to the European Swamp Soccer Championships. Add to that marathons, sailing regattas and midnight golf, and Icelandic summers start to look pretty unusual and interesting.
The first weekend in June is the Festival of the Sea, during which Iceland celebrates its biggest natural resource and Icelandic fishermen proudly show off their craft to throngs of people. Towns across the country embrace a carnival atmosphere for the event, with barbecues, fairground rides, competitions and games.
Later that month, on 17 June, Iceland celebrates it 1944 independence from Denmark. Independence Day starts with formal speeches and a chance to see MPs, the President and ambassadors up close. After this comes the turn of street parties, parades, live music, dance shows, exhibitions and all sorts of riotous fun which stretches long into the night.
Talking of long into the night: late June is also the time for several midnight golf championships allowing entrants to enjoy the midnight sun and compete in a stimulating golf competition at the same time – perfect!
Iceland has several running events and marathons over the summer, the biggest of which is the Islandsbanki Reykjavik Marathon on 22 August 2009. Reykjavik offers excellent running conditions and the marathon takes place on the same day as the city's famous Culture Night.
Culture Night celebrates the City of Reykjavik's birthday each year with events similar in magnitude to those of Independence Day; but with more emphasis on art galleries and museums. The day also differs with the inclusion of a magnificent fireworks display, the likes of which are simply not possible on a bright June night.
With accommodation in Iceland ranging from luxurious hotels to spotless youth hostels and friendly campsites, Iceland is a perfect choice of summer holiday. Fishing rivers and lakes in Iceland are world class, the scenery is absolutely unique and the people really know how summer should be celebrated. Reykjavik even has a geothermal beach, bringing the tropics north for all to enjoy!
More reasons to visit Iceland can be found at www.visiticeland.com