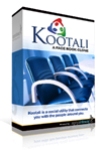 Agriya infoway is pleased to announce the launch of its add-on modules for Kootali, a closed social networking script.
Chennai, May 22, 2009. In support of their hot running product Kootali, a closed social networking script, Agriya Infoway announced the release of add-on modules for enhancing user experience. The add-on modules include OpenID, vBulletin Integration, phpBB3 integration, Mass uploader for photo, WordPress integration and Facebook connect integration.
These add-on modules were introduced to facilitate webmasters offer a unique, enhanced social network in the market and stay ahead of the crowd.
A brief about the modules:
Open Id
This add-on module will allow a Kootali site support OpenID for automatic login. Through this, users can join Kootali easily with their Open Id user name and password. There would not be any delay in authentication and approval processes.
vBulletin Integration
Integrating with vBulletin will make a Kootali site a hub for information and discussion. This encourages users to return to the site time and again. It's also a highly effective way to engage users in a networking site.
phpBB3 integration
This module will integrate a Kootali site with phpBB3 forum, and help site users to access the forum through a single login. The forum discussion will offer a path for site members to carry out discussions on any topic and keep them active.
Mass uploader for photos
With the Mass Uploader, webmasters can select a folder loaded with photos on their computer and choose how often Kootali should update content on site from this folder. Hence, website will get fresh content everyday, which will help in Google rankings.
WordPress integration
A blog is a popular medium to share your thoughts with the world. Using this module, site owners can start their unique blog with more features and integrate it with the Kootali site.
Facebook connect integration
Most net users are connecting with their loved ones through Facebook. Using this simplified and trusted authentication, webmasters can allow site members to connect their Facebook account with the Kootali site.
During the launch, Aravind Kumar, The Managing Director of Agriya Infoway said "The primary motivation of the release of the add-on modules is to facilitate our customers in offering effective and enhanced network services to their site users. The key process is to empower and encourage members to join their site. We are confident that these add-on modules will satisfy all existing Kootali users and attract more new customers."
Author's Bio:
Agriya Infoway is a Chennai based web Development Company that sells scripts that can be bought by webmasters to build sites under various categories. Visit www.kootali.com for more details.