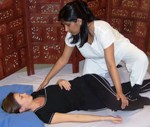 It is estimated that by the end of 2009 Britain will have over four million unemployed. H3, a company which specialises in traditional Thai Massage, is offering a unique solution in its training courses.
The 11 day courses offer participants an intensive training programme in the methods and techniques of traditional Thai Massage. On completion participants will receive a certificate of their development and open up a fantastic opportunity for a new career and lifestyle.
The courses cost just £775 per person during which time participants will learn:
 The origins, background, benefits and contradictions of Thai Massage
 How to identify the pressure points and energy lines on the body
 How to work these points and lines with correct techniques for appropriate parts of the body
 The art of stretching the entire body and how to eliminate stretches that may not be suitable for certain clients
 How to construct a two hour full body Thai massage
Hardika Ladva comments: "The course provides a perfect opportunity for creative individuals to launch a new and rewarding career. Not only can individuals become their own boss but this type of work allows for flexible hours. For anyone who is at a crossroad in their career I really would recommend this as an alternative opportunity. "
For a full listing of courses please contact Hardika Ladva on 07739 146935 or email enquiries@h3uk.com. For general information about Thai massage visit www.hhealinghands3.com.
-ends –
For media information please contact Samantha Marsh at Infinity Public Relations on 020 8640 4031 or 07711 265666. Alternatively email samantha@infinitypublicrelations.co.uk.
Notes to editors:
• Courses are broken down into five days of training, followed by three months of practice and then completed with a final five days of teaching and an exam.
• Traditional Thai Massage has been practised since the 3rd century BC. The unique form of combining acupressure massage and yoga stretches helps the body to restore balance. Practitioners use their hands, feet, elbows and knees to stimulate the body to repair and heal itself, providing clients' physical, emotional and mental benefits.
• Hardika Ladva trained and qualified in northern Thailand, backing up her qualifications in the UK under the guidance of the International Education Council.
• Qualified in City & Guilds further education teacher training.
• Hardika Ladva launched Hardika's Healing Hands in 2002, offering a range of Thai Massage therapies including head, neck and shoulder massage, foot massage, full body massage and holistic massage. She also offers a traditional method of facial hair removal called threading.
• Hardika is happy to give advice and media interviews, plus offer complimentary massages for journalists. If you would like to interview Hardika or experience one of her massages, please contact Samantha Marsh at Infinity Public Relations on 020 8640 4031.