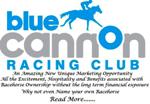 A NEW racing syndicate has evolved which will end the notion that owning horses is purely for the very rich – by making it possible for everyone & anyone to join the ranks.
A Manchester based company is proving that owning horses is no longer the preserve of the very rich – by bringing the Sport of Kings into the realm of the man-in-the-street.
Blue Cannon Racing Club, whose HQ is at the Manchester Business Park adjacent to the Airport, is giving companies the opportunity to become involved in corporate ownership that can be tailor-made to suit their financial needs.
Blue Cannon Racing Ltd has the ability to give Corporate entities the opportunity to own part or all of a racehorse, to enjoy the benefits of corporate brands on jockey clothing, paddock blankets and enjoy the thrills that go with it without the long term financial commitment. And BEST OF ALL… YOU COULD EVEN NAME THE HORSE!
They have various levels of packages that can enable companies to form a Racing Club involving their staff or clients which can produce plenty of benefits. These include; very exclusive ''owners and trainers'' passes for race meetings to watch your horse; stable tips and visits; Racing club jackets with your branding on; up to the minute information using a member log in area and even a share of the winnings to name but a few
In these times, when winning business is very competitive, it's the little extras that set your company apart from the rest. Business owners are seeing that they can use the unique ownership scheme for corporate entertainment, staff incentives and promotional activity whilst also being in the thick of the action. As far as taking clients to the races in concerned, you would be entitled to the exclusive Owners & trainers passes which would get you access to all areas of the racecourse including Parade ring, Winners enclosure, meet the jockeys and trainers etc.
Blue Cannon Racing Club has numerous thoroughbred horses trained in the UK by the likes of Newmarket-based Alan Bailey who said: "It is a marvellous concept and one which I believe is just right for people in these days of tight purse-strings."
Racing Club members receive plenty of up-to-date information along with free Racing Club sportswear and a share of any winnings with director Phil Buchanan saying: "The whole idea is now really taking off." Blue Cannon also has formed its own mini site within where you can view the horses in action.
Go to YouTube – bluecannon1's Channel
Blue Cannon Racing Club is establishing a niche in the ownership market with a novel scheme in which pub landlords can form their own Racing Club but Buchanan has seen a large increase in interest from the corporate side of the market.
He said: "The whole business is growing and people are rapidly realising that the cost of getting involved in a corporate package that suits them is clearly paying dividends. We're all very happy with the way things are now mushrooming at Blue Cannon Racing Club."
* FOR further information on how you can get involved in this new & exciting opportunity, please contact the sales team on 0161 266 1117 or visit http://www.bluecannonracing.com/
Email: sales@bluecannonracing.com