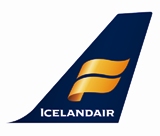 Icelandair Group, parent company to Icelandair, released better than expected first quarter 2009 results on Friday, buoyed by Icelandair and Travel Service.
In spite of the extremely challenging operating environment, Icelandair Group Friday released better than anticipated first quarter results.
Iceland's biggest airline, Icelandair gave its best first quarter performance since the company took its current form in 2001; due largely to foreign travellers wanting to visit Iceland for the favourable exchange rate of the Icelandic krona.
Passenger numbers have increased considerably on flights from Paris to Reykjavik and Amsterdam to Reykjavik, among others.
Travel Service was not a part of Icelandair Group in the first quarter of 2008.
Icelandair Group's total turnover in the first three months of the year increased 48 percent on 2008 to ISK 20.7 billion; but EBITDA was negative by ISK 2.3 billion, compared to 0.9 billion last year. The first quarter is always the hardest and usually returns a loss; and this year's predicted loss was ISK 4.1 billion – nearly double the actual figure.
EBIT was negative by ISK 3.5 billion and was negative by ISK 1.7 billion last year. First quarter losses this year after tax amounted to ISK 3.6 billion, compared to ISK 1.7 billion in 2008.
The Group's assets amounted to ISK 98.1 billion at the end of March 2009, as compared to ISK 98.9 billion at year-end 2008. Icelandair Group's cash position has not been severely affected either; taking a drop from ISK 3.3 billion first quarter 2008 to ISK 2.8 billion in 2009. The equity ratio was 17.2% at the end of March 2009, down from 20.3% at the end of 2008.
EBITDA for the whole year 2009 is estimated to be approximately ISK 6 billion.
Icelandair Group is an Icelandic travel company comprising Icelandair, Air Iceland, Travel Service, Icelandair Hotels, Bluebird Cargo, Icelandair Cargo, Financial Services, Iceland Travel, Icelease, IGS, Loftleidir Icelandic, and SmartLynx.
Icelandair and Travel Service were the Group's strongest first quarter performers.
Icelandair CEO Birkir Holm Gudnason says the company's ability to instantly shift sales focus from the Icelandic market to overseas helped to offset a serious drop in Icelandic passengers travelling overseas following the banking crisis.
The number of foreign visitors to Iceland using Icelandair increased by 11 percent in the first quarter and now account for over half the airline's passengers for the first time ever. The airline has also forged ahead with plans for new, ambitious routes.
More details on Icelandair, including Friday's first-quarter investors' report, can be found at http://www.icelandairgroup.com/investor-relations/news/