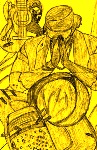 Red Gate Gallery presents
Blessed Heritage/Tamra
A Live music gig of a fusion of traditional and contemporary Senegalese Music
Live Gig: Saturday 13th of June 2009
Doors open: 7.30pm: Reserve Seats early
Gig start: 8 pm – 11 pm
Admission: £7
About Blessed Heritage / Tamra
Tamra means shining drums. Tamra's origins date back to 1994 when former Youssou Ndour drummer Magatte Dieng & father of Babacarr Dieng where working together. During this time the band consisted of sabar drums led by Magatte.
Magatte then added kit drums to the arrangements which added a rich mix between European and Senegalese rhythms. He toured France with Tamra ensemble with great success. Now Babacarr, in collaboration with Silvan Ndiaye, has taken up the reigns of his father's traditions along with band members Ali Seck, Karim Mbaye and guest artists.
Babacarr is keen to share the process of making music with a pan-African vibe with the roots stretching across his motherland. The ensemble consists of Sabar, Tabala, used in religious ceremonies.
Djembe's and the Tama (talking drum), with the addition of the Kora and Xalam stringed and harp like instruments create a fusion of sound that is unforgettable.
Add to this… singing, dance and drama and wonderful vibrant costumes.
Tamra …..share, experiment & love……………..
For further info: http://profile.myspace.com/index.cfm?fuseaction=user.viewprofile&friendid=337204518