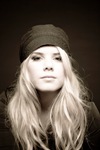 With the excitement of the 2009 Eurovision Song Contest fast approaching, fans around the world are familiarising themselves with entrants' music videos in the annual warm up to the biggest music competition on Earth.
This year's entry from Iceland is the enigmatic Johanna Gudrun Jonsdottir (often known simply as Johanna), whose smooth yet powerful voice has been earning her fans for over a decade – not bad for someone born in 1990.
Johanna's slow-burning ballad 'Is It True?' is proving very popular among European audiences – in no small part due to the fresh and dreamlike music video that accompanies it.
The newly released video was created by Digital & Sons and by Z Productions. The computer generated video is simply and attractively put together, and features Johanna singing her song in an otherworldly, colourful environment. It bears a slight resemblance to a white fluffy cloud at sunset, encircled by lazy and indistinct butterflies and fairies – but not quite. Whatever it is, the video's gentle and soothing effect fits perfectly with the song's lilting strings and upfront vocals.
Digital & Sons is the digital arm of respected Icelandic advertising agency, Hvita Husid (The White House). Digital & Sons was established in 2000 and has been at the cutting edge of creative online advertising and motion design for television and the internet ever since.
Alex Jonsson and Solvi Sigurdsson worked on Johanna's Eurovision music video on behalf of Digital & Sons; and they are confident that their video will give Johanna a helping hand in Moscow next month.
Hvita Husid and Digital & Sons have worked on a wide variety of high profile projects in D&S's nine years of existence, including American Express, NFL UK and Actavis and award winning public information campaigns for the Icelandic Roads Administration, among others.
More information on the premier Icelandic digital agency can be found at www.digitalandsons.com