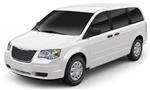 Visiting Iceland in the wintertime might seem weird to some people, thinking that cold and frost make most places inaccessible. Those who have come to explore the Land of Fire and Ice in the off season months however realise how picturesque and enchanting the North Atlantic Island can be dusted with a little snow.
Although Iceland gets colder earlier than some other northern countries, the falls in temperature are not that deep and stay just a few degrees below zero. Unforgettable experiences of ice-kingdoms by the waterfalls, glaciers or the Devil's kitchen in geothermal areas may not be totally unrealistic if you have the right gear.
Reykjavik rent a car offers high performance cars such as Ford, Jeep or BMW – cars that inspire a feeling of security in the middle of nowhere. Travellers will feel safe on slippery roads as well as riding on a layer of snow. All cars are equipped with a range of extras such as GPS navigation, roof boxes, fuel cans and other essentials.
Prices for renting a car outside the main season make winter trips to Iceland very reasonable, even before taking the more affordable Icelandic krona into account.
The company offers customer pick-up at Keflavik International Airport or can deliver the selected car to hotels in Reykjavik.
For more information, visit the company website at www.reykjavikrentacar.is.