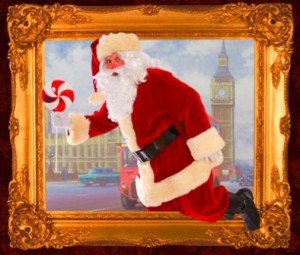 Entrepreneurs Mary Kerr and Damian Samuels have launched a new business, Santa in London, which will provide at-home visits by Santa and one of his elves to exclusive clients in London.
Tired of queuing in a department store for five minutes with a tired, overworked Santa? Need something new and unexpected to wow the kids? Well, this winter Santa is coming to London – and you don't need to leave the comfort of your own living room to see him. Through the new business Santa In London, he and one of his elves will come to your home or party and give your family a memorable experience they will cherish forever.
Santa In London (www.santainlondon.com) is a new business created by partners Mary Kerr and Damian Samuels, and active during the Christmas season, from Nov. 3rd to Dec. 24th inclusive. Their Santa and Elf have years of experience entertaining children, and have appeared in the famous Selfridges Grotto in 1995, 1996 and 2007, as well as in Bentalls and Debenhams and on television shows including BBC's Ready Steady Cook and Channel 4's The Big Breakfast.
"Unlike a department store visit to Santa, our visits are fare more personal and magical", says Kerr. "You have the flexibility to meet Santa when it fits in with your schedule – morning, day or night – and you're also more than welcome to take as many photos and videos throughout the visit, at no charge, which means all those magical moments will be captured forever."
Each VIP visit is tailor-made to fit your requirements, and Santa can do anything from delivering your presents to turning on your Christmas tree lights or reading your children their favorite Christmas story. The idea came jointly to Ms. Kerr, a filmmaker currently directing documentaries in New York, and her friend Mr. Samuels, a writer and actor, after they worked together for a season in the Selfridges Grotto as research for a Christmas film.
The venture has already attracted interest and bookings from some of London's best-known residents, as well as five-star hotels and high-profile businesses.
About Santa In London
For more information about Santa In London, or this particular news angle, please contact Mary Kerr at 07990 572969.
Contact Info:
Mary Kerr
Director, Santa In London
07990 572969
elf@santainlondon.com