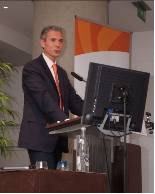 Actavis in France was formally launched on 23rd October at a one-day conference held at the Centre Étoile-Saint Honoré, close to the Champs Elysées in Paris.
Actavis started preparing its greenfield operation in France in 2007, to market and sell Actavis products on the French market. The Group's offices in the country are located in Le Plessis-Robinson just outside Paris. About 80 Gx products are already on the market.
About 120 guests attended the conference whose theme was: "Economic changes, sustainable development: What impacts and what role for health professionals?"
Sigurdur Oli Olafsson, Actavis Group's CEO addressed the conference which was also attended by Svend Andersen, EVP of Sales and Marketing in Western Europe.
Philippe Ranty, Managing Director for Actavis in France, presented Actavis, its growth story and strategy and introduced the products and services available to the French market.