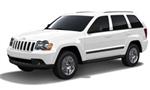 Reykjavik Rent a Car is currently offering cars from as little as 3,900 ISK per day (£40).
A car hire company in Iceland has slashed its rates by around two-thirds in time for the winter season.
Reykjavik Rent a Car is offering large 4×4 vehicles, such as the Jeep Grand Cherokee and Ford Explorer, for as little as 8,900 ISK ($76, £46, €58) per day. This is a reduction of just under 70%, down from the summer rate of 24,900 ISK ($206, £132, €164).
The hire car company's Smart Car now costs 3,900 ISK per day ($32, £21, €26). The environmentally-friendly car is eligible for free parking in Reykjavik because of its low fuel consumption and low CO2 emissions.
Reykjavik Rent a Car specialises in high performance cars such as BMW, Mercedes, Jeep and Ford; all available with automatic gearboxes and bigger engine power which is often needed in the remote rural areas of Iceland.
All hire cars are equipped with a range of useful extras often needed in rural Iceland, such as GPS navigation, roof boxes, fuel cans, child seats and other accessories.
The company offers to pick their customers up at Keflavik International Airport or deliver to any Reykjavik hotel.
Visit the company website for more information on cheap car hire in Reykjavik.