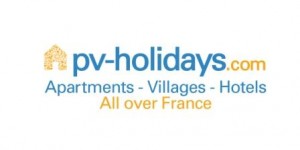 European holiday specialist, PV-Holidays, is offering a 20 per cent discount on some of its most popular seaside properties across France. This week's deals are all available for a minimum of two-nights between 3rd -12th October 2008. All properties can be booked up to one day prior to arrival with no extra charge.
Cap Esterel Holiday Village, French Riviera
Overlooking the Mediterranean Sea, Cap Esterel Holiday Village is perfectly located close to St Raphael and within walking distance of the picturesque beach. The property offers 1239 traditional Mediterranean style apartments and houses for up to nine people, which all benefit from sea and garden views. This multi-activity holiday complex comes equipped with an aqua fun area that boasts a wave machine and a number of waterslides. Cap Esterel Holiday Village prices start from £317 per week.
Cannes Beach, French Riviera
Cannes Beach enjoys a prime location, situated just 50 metres from the sea front. This internationally renowned resort benefits from a heated swimming pool, play lagoon, Jacuzzi, sauna, and fitness room. The Cannes-La-Bocca shopping quarter is just a short walk away. The property offers two person studios and apartments for up to seven people, all equipped with terraces or balconies. Residence Cannes Beach prices start from £241 per week.
Les Issambres Bellevue, French Riviera
Located between St Tropez and Frejus, Les Issambres is a traditional Provençal-style hamlet built on the hillside in a quiet and peaceful area. Most apartments, sleeping up to six people, boast stunning panoramic views over the Gulf of St Tropez, while others offer scenic views of the surrounding hills. Guests can enjoy a spacious swimming pool with a dedicated children's area. All apartments are available from £246 per week and the Children's Club is included in the price.
Branville Holiday Village, Normandy
Branville Holiday Village is made up of characterful cottage-like houses and apartments spread over a 10-hectare estate. A covered tropical aquatic park that includes swimming pools, whirlpools, sauna, Jacuzzi, giant water slide and fountains, as well as tennis courts and a children's playground, surrounds the resort. Accommodation is available for up to eight people and a large choice of children's clubs adapted to each group is included in the price. Branville Holiday Village prices start from £317 from 3rd-10th October 2008.
Port du Crouesty Holiday Village, Brittany
The Port du Crouesty Holiday Village is in close proximity to the marina, 18-hole Rhuys-Kerver golf course, and a beautiful beach where children and adults alike can go sailing and/or take part in some watersports. The 'Bretagne Douce' apartments are located in the heart of the activities at the village, nearby to the beach. The 'Cap Océan' houses are set in a peaceful, residential environment. Both can sleep up to eight people. Seven nights stays are available from £216 for house in the village quarter and £247 for apartments in the Cap Ocean quarter. Prices include entry for one person to the Thalassotherapy centre.
About PV-Holidays
Also known as Pierre & Vacances, PV-Holidays is the number one provider of holiday residences, villages and hotels all over France. It offers self-catering and hotel holidays in France, Spain, Italy, Morocco, Tunisia, Switzerland and the Caribbean through its five brands: Pierre & Vacances, Maeva, Residences MGM, Latitudes Hotels and Adagio City Aparthotel. The vast range includes everything from simple two star budget apartments to multi-activity centres and comfortable four-star residences and hotels with excellent facilities.
Further information
For further consumer information on PV-Holidays, please visit: www.pv-holidays.com or telephone: 0870 026 7144.
For further trade enquiries, please go on http://trade.pv-holidays.com or telephone 01273 560475.
For media information and images, please contact Susie Tempest or Christelle Lagnide at The Saltmarsh Partnership on 020 7928 1600 or email susie@saltmarshpr.co.uk / christelle@saltmarshpr.co.uk.