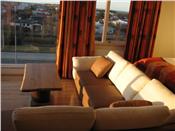 Hotel Hafnarfjordur, a top apartment hotel in Iceland, will be represented at the Vestnorden Travel Mart taking place in Reykjavik between 15th – 17th September.
Vestnorden Travel Mart, an annual travel fair dedicated to the three West Nordic countries of Iceland, Greenland and the Faroe Islands, will be held for the 23rd time this year in Reykjavik.
Travel trade representatives will be coming to Iceland to exhibit the various tourism opportunities on offer in each country. Pre-tours of the travel fair will take place in Greenland this weekend and post-tours will be held in Greenland and the Faroe Islands for five days after the exhibition in Reykjavik.
Hotel Hafnarfjordur will accommodate many of the visitors and exhibitors coming to the fair. The hotel specialises in apartment accommodation in the old centre of Hafnafjordur, a pretty harbour town which is only a few minutes drive from Reykjavik.
The stylish apartment hotel offers a full range of apartments from simple singles all the way up to luxury suites. Big or small, they are all clean, bright and airy – and all enjoy the same great level of service from the friendly staff.
The apartment hotel's website at www.hhotel.is contains useful information on Hotel Hafnarfjordur, including prices, a description of facilities and an extensive collection of photographs to help interested parties get a feel for the place.
The opening ceremony for the Vestnorden Travel Mart will be held at the Hellisheidi Geothermal Plant between 7 and 9pm on 15th September, with the main fair taking place in the Vodafone Sports Hall in Reykjavik. For more information visit www.vestnorden.com.