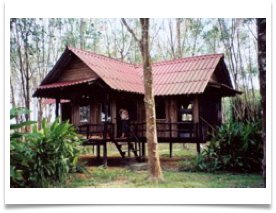 Andaman Camp and Cruise is offering travellers the chance to experience a Muslim homestay in a small coastal Thai village.
Family-run Thai travel company Andaman Camp and Cruise (formerly Krabi Island Tours) has been running their unique tours around Krabi in south Thailand for the past 5 years.
The owners, Australian-born Elizabeth and Thai husband Sun, are keen that visitors to the Andaman Sea area get the most out of their trip as possible. For this reason they say their Muslim homestay offers an insight into how local people live at home as well as on the farm.
Their close friends, Bang Eh and his family, give visitors a warm welcome to their home at Ban Na Thai, just 6 kms from the main town of Ao Nang. Guests can see how rubber is cut and processed, how original Thai sweets are produced and take tours of the nearby pineapple and sugarcane plantations.
For people who feel like doing something productive, they will always find something to help with at the palm plantation or goat farm, or alternatively try their hand at some Thai cooking classes.
As the Krabi region has a lot to offer, an overnight stay is highly recommended and for this purpose Andaman Camp and Cruise arranges visitors to stay with local Thai Muslim families. Guests will get an insight of how the local inhabitants live at home as well as get a guided tour of the farm the host family runs.
The white beaches and crystal clear waters of Krabi are already well known to the Scandinavian people, who have holidayed in the area for well over 30 years and are always coming back. Now there is a new way to enter into the life and culture of this spectacular region.
Visit the Andaman Camp and Cruise website for more information on Muslim homestays in Thailand.