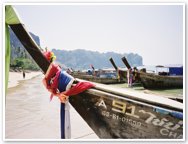 Under threat from the speedboat, a south Thailand tour company is preserving the colourful heritage of longtail boats in Krabi.
Krabi tour company Andaman Camp and Cruise is passionate about its traditional longtail boats in Krabi, south Thailand.
They point to the years of tradition behind the longtail designs and the danger the boats face from the increasing popularity of speed boats.
The longtail boat is one of the unofficial symbols of Thailand and can be seen decorating the beachfront in any number of Thai photos. The longtail gets its name from the long pole used to connect the propeller to the motor – usually from a car or truck. The simple propeller link up makes the boat easy to steer and gives it its unique appearance.
The sleek look of each longtail boat is unique to the craftsman who made it, but the general design has been around for many centuries longer than the car engines that give the longtail its modern name.
Each boat has colourful ribbons tied to the head – a symbol of the ancient times when animism was the main belief system in the region. The colours are designed to appease the spirits of the seas. If the spirits are appeased, the boat and crew will have safe passage and good luck when fishing.
The specific colours on display have no meaning in themselves and are the choice of the boat's owner. Being colourful and attractive is the rule people generally try to stick to.
Speed boats are increasingly popular in south Thailand, as they are faster and do not need to be painstakingly made from natural materials by local craftsmen. The longtail boat is suffering as a result, and some fear for its long term survival.
Elizabeth and Sun, the co-owners of Andaman Camp and Cruise, do all they can to preserve a future for the beautiful longtail boat, and encouraging tourists to take an interest is an important step.
Andaman Camp and Cruise specialise in offering longtail boat tours in Krabi, as well as personalised tours of the whole Andaman Sea region of southern Thailand.
Visit the Andaman Camp & Cruise website for more information on longtail boats in Krabi.