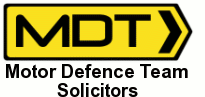 A motorcyclist faced with 99 penalty points and a lengthy ban has escaped with only 6 points on his licence. Jeremy Nicholson of Kent was looking at numerous charges for speeding and failing to give information to the police as a result of continually riding to work in the morning past the same speed camera in Sittingbourne, Kent.
He was riding a distinctive Buell motorcycle and wearing a Union Jack motorcycle helmet, which made him stand out from the crowd. The offences all occurred between 5 October 2007 and 9 November 2007, at about 5:45 am. Eventually he was caught by the police staking out the camera site one morning.
Mr Nicholson was represented by Motor Defence Team, who managed to convince the prosecuting authorities to only charge for 9 offences. They then agreed to accept a plea to only 1 offence, meaning that he received 6 points, along with a fine of £270.