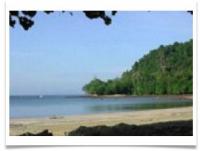 Andaman Camp and Cruise offers unique tours of Krabi in south Thailand, and puts as much emphasis on the tastes and smells of Thailand as on its sights and sounds.
Thai food is always a highlight of any trip to Thailand. Sun is the owner and chef extraordinaire of the Krabi tours company, Andaman Camp and Cruise, which operates tailor-made tours to suit customers' budgets and interests.
When on tours of Krabi in south Thailand, visitors often notice the importance of food in the local culture. Sun is particularly passionate about Thai cuisine, and takes great pride in feeding his guests. The concept behind his cooking is to present genuine South Thailand flavours to Western guests, instead of changing Thai food to suit Western tastes.
"Our customers appreciate the chance to eat the type of food we eat, rather than food prepared especially for tourists" Sun explains. "Although we do ask passengers if there are any foods they don't like or are allergic to, and how spicy they can eat, we encourage them to taste some local ingredients and try out our delicious Thai sweets."
The eldest of 5 children, Sun did not have a sister until he was well into his teens. By that time his mother had recruited him as her kitchen hand, and taught him how to cook the curries and sauces of the Thai-Muslim tradition.
Not only does Sun cook, but he also closely supervises the local daily market to make sure he only has the freshest ingredients for his dishes. And he is delighted to share his food and his skills with anyone who has an interest – and a keen appetite!
Andaman Camp and Cruise is a boutique tour company providing day trips and longer tours of Krabi and the Andaman Sea in southern Thailand. The company can arrange all aspects of trips, and consults with customers over length, activities, food and standard of accommodation. Flexibility is a byword!
Visit the Andaman Camp & Cruise website for more information on tours in Krabi and south Thailand.