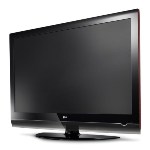 The first product designed by Seymourpowell for South Korean electronics giant LG Electronics to be released commercially comes out this month: the high-end LCD television, the LG70. The TV, which launches this month in stores worldwide and is one of LG's flagship products for 2008, has a super-thin 'teardrop' structure, finishing at a point at the base of the television, where it blends from opaque to translucent, seemingly disappearing into nothing, so that it has a floating appearance when poised on a stand.
The backlit LCD television, aimed predominantly at the European market, was based on the idea of 'invisible sound', with no speakers to be seen. The product, which responded to a brief to create a truly 'eye-catching' product, celebrates instead the screen itself and uses a form of cutting-edge, flat-speaker technology to distribute sound evenly.
'LCD (liquid crystal display) televisions have taken longer than plasma screens to function well at larger sizes, but are now fast becoming the more dominant of the two technologies', commented Seymourpowell design director David Fisher.
The LG70 also has an ultra high-dynamic contrast ratio, an AV mode that automatically adjusts itself for movies, sport or games and a proprietary Intelligent Sensor that also automatically adjusts itself, ensuring excellence under all viewing conditions. It comes in four sizes, from 32″ – 52″, with two further wireless versions.
Seymourpowell was awarded the product contract in early 2007 and the final result was the work of a six-strong team, led by design director David Fisher. 'We had worked with LG on concept development work from 2006 onwards for a number of mobile phones not yet on the market', commented David Fisher. 'Our relationship with LG is becoming ever-stronger and increasingly strategic, so we were delighted to be also considered for a different type of consumer product'.
For further information on other designs by Seymourpowell visit www.seymourpowell.com