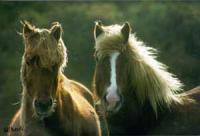 The largest event in the world involving Icelandic horses will be taking place next week in Iceland.
The 18th Icelandic Horse Festival or 'Landsmot' will take place at Hella in South Iceland from 30th June to 6th July, reports Icelandic travel website South.is.
Landsmot is the Icelandic name for the biannual National Horse Show – a leading event in Iceland that has been recognised worldwide as a premiere show for Icelandic equestrianism and horse breeding. Various competitions will showcase the best horses in the country, from the classic Icelandic 'gaedingakeppni', to 'tolt' and racing competitions.
South.is was recently launched as a website for the travel industry in South Iceland and includes an extensive section on Icelandic horses. It covers everything from horse rentals and riding lessons to horse breeding and horse shows in southern Iceland.
The website has extensive listings on accommodation, activities, attractions, restaurants, museums and events in the south of Iceland.
For more information on Icelandic horses and South Iceland, visit www.south.is