The Director of Icelandair Group has revealed a young, but experienced new CEO of the Icelandair airline.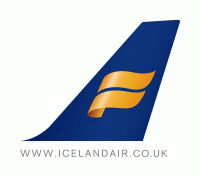 Icelandair, the national carrier of Iceland, has named Birkir Holm Gudnason as its new CEO, charged with growing the business in a difficult global aviation market.
Birkir Holm Gudnason has worked for Icelandair for many years and was previously the head of the company's Nordic countries department, based in Copenhagen.
Director of Icelandair Group, Bjorgolfur Johannsson, said he is proud of his new appointment. Johannsson plans to use the opportunity to reduce his own responsibilities with Icelandair. He will to use the extra time to concentrate on his duty to the Icelandair Group as a whole, which includes 11 other companies besides Icelandair.
Johannsson says he believes Gudnason will make an excellent CEO at a time when the airline is challenged by high fuel prices and the uncertainty on world financial markets.
Gudnason says he looks forward to taking up his position as CEO, "I have worked in a wide variety of areas within the company and know just how many great colleagues I can look forward to working with. The big task ahead is for us to grow the company's profitability in the difficult trading conditions we are now faced with. It's an exciting task which will be fun to engage in with such great staff."
Icelandair Group is one of Iceland's biggest companies and holds an important place in the nation. Icelandair has played a huge part in the country's tourist revolution, and has enabled Icelandic business interests to travel Europe and North America with a growing network of scheduled flights to Iceland.
Gudnason is 34 years old and holds a bachelor's and a master's degree from Alaborg University, gained in 2000. He has been with Icelandair ever since.
For more information on Icelandair, visit the Icelandair website.