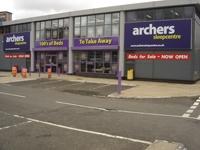 Four in five adults experience back pain at some point in their lives, although back pain can in many cases be unavoidable there are several measures that can be taken to minimise the occurrence of it happening to you. Choosing the right bed can be a start.
Archers Sleep Centre, Scotland's leading bed and mattress supplier and the leading stockist of Silentnight and Sealy beds have a wide range of orthopaedic beds that are an ideal aid to avoiding back pain. Archers have recently opened a new store in Glasgow's, Auldh ouse Retail Park expanding the company to now include 9 Sleep Centres across the whole of Scotland. Archer's ability to expand so readily is owed, owner Ian Archibald explains, to the 'large stores and even larger warehouses that allow customers to take their bed away today.'
Archers Sleep Centre staff are specially trained and experienced in advising the correct type of mattress and/or bed frame for your posture, and for those who already suffer from back ache Archers are the leading specialists in electric adjustable beds with a wide range of models to suit any budget.
For more information visit the Archers Sleep Centre website, or contact the store on 0141 649 1912. Archers other store locations include; Ayr, Cumbernauld, Glasgow North- Great Western Road, Edinburgh, Kilmarnock, East Kilbride and Uddingston.