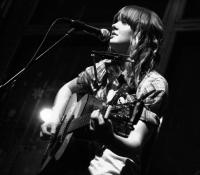 "Every so often you come across a little gem like this!"-Steve Lamacq
"Ms. Morgan is a breath of fresh air"-Sandman Magazine
"She is the business…all the glorious energy and lyricism of Bruce Springsteen's very early material." -The Talk Magazine
"we love it!"– LoudNews Magazine
JESS MORGAN is an extremely hard-working artist. Championed by Steve Lamacq and receiving radio play from numerous regional and nation stations including plays from Chris Coco and Annie-Mac, Jess is self-motivated and a prolific songwriter and story-teller. As a live performer, Jess delivers with energy and conviction. Her voice and style are distinct and Jess aims to build upon her growing repertoire of memorable and distinguishable country/folk songs. Jess is also influenced by aspects of blues, gospel and celtic music.
Based from London, Jess gigs regularly and is beginning to develop a following of like-minded lovers of good songwriting and those who just love to see a ruddy good live show! Jess often travels back to her home-turf of Norfolk, or travels north to Yorkshire where she went to University. There is a similarly enthusiastic following for Jess in both Norwich and York.
All of Jess Morgan's live recordings are humbly conceived in a live and organic style. The production is unashamedly raw and lo-fi and as top producer Russ Keftert aka: Junk Scientist says, Jess's songs 'work best without a bunch of clutter' as her 'very special voice has been allowed to emote without the usual cliched instrumentation.' Jess's demo CD – features 5 raw tracks: 1.Like a Drum, 2. Crosses, 3. Let it come, 4. Onyx and 5. We are on fire. This demo aims to showcase all aspects of Jess's song writing: the up-tempo, the folk ballad, the coming of age and an overriding sense or resilience and spirit.
SEE JESS MORGAN LIVE
The Source Below – Soho – April 28th
The Green Note 'Folk-a-dot' club – Camden – May 7th
The Custard Factory (Birmingham New Generation Arts Festival) – Birmingham – May 21st
The Black Swan – York – May 24th
The Soho Review Bar – Soho- June 4th
The Old Hall 'ditch the TC' club – Coventry – June 27th
TBC…The Troubadour – 'curious generation' – July 1st
Norwich Arts Centre (supporting Sargasso Trio) – July 4th
The B2 – Norwich 'Hot City Sounds' – July 7th
The Fly – New Oxford St. (supporting Cedar) – August 18th