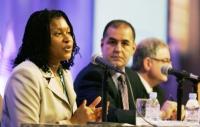 Middle East Compliance Officers Forum "MECOF" was chosen by BestDiscussionGroups.com among most active and moderated groups. With 550 members, MECOF hits the cyber sky as the first online discussion group created in Middle East & North Africa (MENA) region.
The moderator and owner of MECOF, Hany Abou-El-Fotouh, is a top banker and renowned public speaker on regulatory compliance and corporate governance issues. "I am very happy that MECOF now is viewed as a landmark for compliance professionals not only from MENA region but from more than 30 countries around the globe" said Abou-El-Fotouh. "Members aim to increase the level of interaction among themselves, share professional information and best practices. Professional members all over world help each other, share their views, discuss any point of law and facts, and can post latest cases and materials. Additionally, members increase their professional competence and benefit from the resource centre, which contains the latest documents as well as useful links" he added.
MECOF's members have special affinity about the Group. "It has been a valuable contributor to the global banking & financial sector" said Jeremy T M Weeresinghe, Senior Manager Credit Risk, Hatton National Bank, Colombo. "I too will be adding my engagement with MECOF on my bio, to be presented at all industry speeches and events" added John F. Walsh partner and CEO of SightSpan.
Abou-El-Fotouh concluded by saying "I invite compliance professionals, risk managers, auditors, lawyers and accountants to join MECOF and benefit from the wealth of knowledge and experience exchanged among members". All you have to do is sign up, it's easy and best of all, and it's free. Just click this link and sign up"
http://finance.groups.yahoo.com/group/middle_east_compliance/
About: Hany Abou-El-Fotouh
First vice president and group head of corporate governance and compliance, ABC Bank, Egypt, he is a leading expert on money laundering and terrorist financing controls in the Middle East-North Africa region with extensive experience in AML compliance and training. Founder of the Middle East Compliance Officers' Forum, he has been honored for his work in promoting compliance awareness in Egypt and the MENA region. Previously, he held top compliance positions in multinational institutions, such as HSBC Bank Egypt, Banque Saudi Fransi, and Oman International Bank.
Contact:
Hany Abou-El-Fotouh, CAMS
FVP Corporate Governance & Compliance Group Head
ABC Bank – Egypt
Tel- 2011-2665600
hanyfotouh@yahoo.com
http://www.wac-online.org/
http://finance.groups.yahoo.com/group/middle_east_compliance/