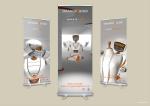 Orange & Gold needed to mark a difference and to reflect what it had become: a nimble, flexible business that could continue to grow despite the changes in legislation. Having developed a fresh service proposition to respond to the new business climate created by the new legislation, Orange & Gold needed a brand to engage with new audiences and re-assure the existing ones.
Accountancy may be about figures, but successful accountancy businesses are about people and relationships. Orange & Gold are an approachable and people-centred business. They believe that business should revolve around relationships more than numbers and the fastest route to success is by investing in relationships with clients, employees and the markets they serve. As the 'rather more human accountancy firm', not only do they believe in this approach, they live by it – it represents their core business proposition and the brand values they work by.
In developing the new Orange & Gold brand identity, we wanted to make the design to bring the following brand values to life: total customer dedication, pioneering attitude, and excellence. These, in turn, translate into professionalism, efficiency, accuracy, expediency.
Working to become the UK's leading provider of accountancy services for contractors, providing them with the customer service they've never experienced before, Orange & Gold are committed to doing the right thing, in the right way and for the right reason for the contractors.
At Smooth, we translated this to show Orange & Gold as a firm that is on a mission to remove the barriers that prevent people from making the most of their money and protecting what's important to them. By removing these barriers, we can turn customers' financial journeys from one that's difficult to one that's effortless.
On that basis, we created a new vibrant identity and a visual framework that is consistent and distinctive. The new, bold, typographic Orange & Gold logo combines gravitas with a sense of vibrancy and provides real standout amongst the competition.
In addition to this, a thoughtful, unique and bespoke 3D character was developed to reflect this, and show that the business is technology led. It also serves to differentiate the firm from the clichéd photography so frequently adopted by other accountancy firms. The dynamic characteristic of the Robot demonstrates a business that will adapt and fit to you. It also conveys the notion of Orange & Gold's aim to innovate continuously and explore new options with creativity. We are proud to have created a character that looks intelligent, alert and efficient as well as friendly.
The approach to the visual language work was designed to counter the 'faceless' image of many accountancy firms. The modern and flexible characteristic of the Robot have enabled Orange & Gold to update the way it presents itself across all marketing communications materials.
The brand marks the big change it needed, being distinctive and distinct from where it has been in the past.