Automotive manufacturers, mobility service providers and fleet owners now have access to utilise digital platform economy through BearingPoint//Beyond's digital solutions. Digital technology is revolutionising the automotive sector at a rate that requires businesses to re-think the fundamentals of their business model.
Car ownership is declining in key demographics with car-sharing and carpooling on the rise – acknowledging this and implementing a digital platform economy will allow a business to thrive past other businesses using sole-ownership of a car as their business model. Digital information is becoming as important in the automotive sector as the mechanics of the vehicles, revenue growth is as much about the digital data as it is about engineering.
The automotive sector is now full of digital disruptions, businesses who fail to utilise this new feature will rapidly find themselves falling behind against their competitors. Original Equipment Manufacturers (also known as OEMs) are now competing against multiplying mobility services. Manufacturers need to take advantage of emerging technologies such as autonomous driving, use of electric cars and increasing software use in vehicles.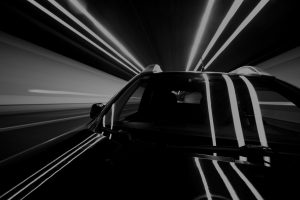 Support to keep up with the pace of the new technologies and services required is available through creating a digital ecosystem that connects partners, technology and customers that allow innovation for a fruitful future for all involved with BearingPoint//Beyond. Automotive business can take advantage of the vast data available which is being created (with more data expected to be produced) from the systems in vehicles which can attract new partnerships, products and services with minimal cost and risk but at increased speed. BearingPoint//Beyond digital platform solutions are designed with the ideal foundation for that exact dynamic ecosystem in a unique way.
Cars are no longer simply mechanical structures as they once began, since their creation they have been developed to be more intelligent through technology and software to suit the needs of customers, beyond getting from point A to point B and safety. These technologies and software in the vehicles are the result of businesses working together. The union of these services has led to lucrative ideas such as short-term car hire services which has led to customer needs changing – why own the car when you can use any number of available cars on any street? –  OEMs and fleet operators are beginning to understand that they won't make the majority of their money from the physical cars.
This has led to the profits in the automotive sector move from vehicle production to the services that can be offered. Mobility services have become much more flexible to meet demographic needs and comply with new environmental regulations as these increase and change. Multiple cars, even a single car, can be used as a platform with a range of services that can improve the lifestyle of customers who buy into particular brands – in the same way that this has been done with Google and Apple. Fleet operators have the opportunity to utilise digital platform economy to keep up with the changes and keep in the race.
BearingPoint//Beyond works with its customers to apply proven methodology to expose customer needs, how to meet them and what is needed in a way that allows businesses to translate their findings into testable products and services. They can then be tested, perfected and launched in a safe environment that minimises cost and risk using the digital platform solutions powered by the award-winning Infonova software. BearingPoint//Beyond undermines the disruptor advantage by enabling established players to disrupt before they are disrupted.