One of the UK's oldest triathlon clubs has once again partnered with iconic Beale Park Wildlife Park and Gardens to host their third sprint-distance triathlon in May 2019.

Recently voted Best Club Event by British Triathlon Federation, Thames Valley Triathletes "Beale Beastie" open-water triathlon will be held on Sunday 19th May against the backdrop of a 30-acre wildlife park, gardens and lake. Early-bird entries are open now with all levels of senior and Masters triathletes welcome. A "Wee Beastie" junior event once again joins the "Beastie" for the 2019 season.

Race Director, Wayne Jones explains why the race is named The "Beastie". "We wanted to recognise the unusual setting of the race," he said, "because you don't often get the chance to race a triathlon in a Wildlife Park! And then we had to give a nod to the two hills on the bike route. The run is flat, but the bike course lives up to the Beastie name!"

Competitors who face up to the "Beale Beastie" will swim 400m in a clear lake fed by the River Thames, before heading out to the edge of the Berkshire Downs for an undulating 20km cycle leg. The 5km mixed-surface run is traffic-free on towpath and flat woodland paths. The course is compact and scenic, designed with athletes and spectators in mind.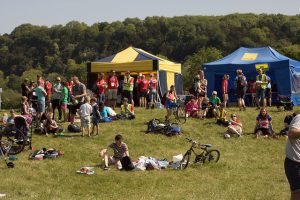 Beale Park will provide plenty to see and do for competitors and their supporters. Anyone taking part in The "Beastie" can access a special group discount for the wildlife park and gardens. Triathlon fans will also enjoy the food and drink plus charity cake stall provided by TVT. Competitors receive a medal and commemorative t-shirt.
TVT's 2019 "Beastie" will be limited to 300 competitors, so sign up soon to secure your spot in the running of this award winning race. Early bird price until 31st December 2018. Closing date for entries 16th May 2019