Digital disruption is making its way through every industry, a thriving business will need a partnered ecosystem to keep up with the evolution of how customers interact with businesses. This provides more opportunities to improve customer experience and business productivity using BearingPoint//Beyond's partnered ecosystem solutions.
Customers are now looking for an extended service beyond the linear value chains, your industry will have specific challenges compared to other industries but the power of partnered ecosystems innovatively connects your business, the customer, partners and communities together to generate ideas and thorough steps to give your business the means to meet the expectations and needs of your customers. As BearingPoint//Beyond says; when the world is changing, it is time to change your world.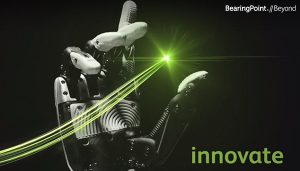 As well as expecting improved service, customer loyalty is harder to retain. Companies need to be reactive to customer needs as they change, anticipate and be able to produce, test, refine and launch new ideas to compete with the fast pace against your competition – and this is not something a business can do alone.
BearingPoint//Beyond's platform helps cut the restrictions of a business and simplifies the model to maximise business productivity through co-creation across your partnered ecosystem, the ideas you create will become more responsive to your customers, partners and communities.
A series of Insight Guides have been produced by BearingPoint//Beyond to show how the use digital disruption based on industry expert knowledge and experience can maximise business development.