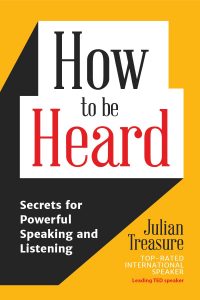 London, United Kingdom (October 16th, 2017) — Have you ever felt like you're talking, but nobody is listening? Communication expert and five-time TED speaker Julian Treasure is releasing a new book, How to be Heard: Secrets for Powerful Speaking and Listening.
How to be Heard has never been more relevant. We teach our children how to read and write, but not how to speak and listen, and we live in a world where the art of rhetoric and conversation has largely been lost. When we want to communicate, our first instinct is to reach for a piece of technology and type. Treasure says, "People have always been scared of public speaking, but now it seems we have a generation scared of private speaking too."
Ineffective speaking and listening severely limits outcomes in life. Many people struggle to lead, inspire, connect, parent and build relationships as well they could. And the effects are felt as far as politics. "Increasingly, political discourse is being carried out in soundbites or even in 140 bombastic characters", Treasure elaborates. "The only antidote is skilled conversation… Democracy depends on civilised disagreement and understanding. Conscious listening always creates understanding. Politicians often meet for talks; perhaps it would work better if they met for listens."
Including a range of expert interviews, How to be Heard offers a practical, comprehensive guide to improving these vital life skills – and thus improving our happiness, effectiveness and wellbeing.
Julian Treasure is an author and international speaker on sound and communication. His five TED talks have been viewed an estimated 50 million times, including one in the top 10 TED talks of all time. Julian is also founder of The Sound Agency, which has been proving that good sound is good business worldwide since 2003.
"Julian Treasure is a pure genius. He understands what motivates and moves people, and it's all in the power of sound. How To Be Heard is an important read… and something that everyone needs to hear. Pun intended."
— Mitch Joel, author of Six Pixels of Separation and CRTL ALT Delete
"He's a master-communicator, and this wonderful book is a gift to all who aspire to share effectively what they know."
— Chris Anderson, TED Curator and author of TED Talks
"Julian Treasure wants you to communicate better and he knows how important that is, for your work, your wellbeing and your relationships with others. How to Be Heard offers guideposts from his professional lifetime of studying the ingredients of successful conversation."
— Professor Sherry Turkle, author of Alone Together and Reclaiming Conversation
Contact:
Frances Board
Email: fran@juliantreasure.com
Phone: +44 845 500 2511