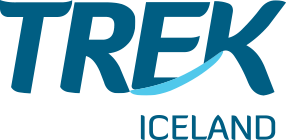 Wintertime offers many opportunities for travelers, including the adventurous crystal ice cave tour in Iceland. Skaftafell ice cave, located in the south of Iceland, is a wonder to see and presents the perfect place for your Iceland ice cave tour. Ice cave tours in Iceland are a magnificent way to experience the wintry aspects of nature by embracing the coldest element—ice! The Skaftafell ice cave tour takes you deep into the heart of winter.
The ice cave exploration is just one part of the two-day trip offered by one of Iceland's leading tour companies, Trek Iceland. The trip includes a drive along the southern coast where you will get the chance to see steep mountains, sprawling glaciers, powerful waterfalls, beautiful beaches, and much more.
The tour begins on Route 1, the famous Ring Road of Iceland. First you'll stop at two majestic waterfalls, Seljalandsfoss and Skógafoss, which cascade from sheer cliffs creating rainbows with their spray. When the weather is clear, you can see far enough into the distance to make out two glaciers, Eyjafjallajökull and Mýrdalsjökull. Next you'll continue along the coast to the picturesque town of Vík, which is home to the famous black sand beach Reynisfjara, where tall basalt columns rise out of the ocean. At the end of the first day, you'll have the opportunity to search the sky for northern lights, which are particularly bright in the countryside.
Day two takes you to the stunning glacier lagoon, Jökulsárlón, where chunks of glacial ice float on a river as they make their way to the sea. The brilliant blue color of the ice is absolutely out of this world. Continuing along the road, you'll see outcroppings of Europe's largest glacier, Vatnajökull, flowing down from the mountains. Here is where you'll stop to explore the Skaftafell ice caves, with the expert assistance of a certified guide to ensure your safety. As you make your way back to Reykjavík there will be more chances to stop and more sights to see.
Trek Iceland offers tours all around Iceland all year round. They are committed to providing you with the best experience Iceland has to offer, with your safety, comfort, and enjoyment as their priority. To learn more about the Skaftafell ice cave tour, click here.
Contact:
Trek Iceland
Vatnagarðar 8, 104 Reykjavík, Iceland
Tel: +354 571 3344
Email: trek@trek.is