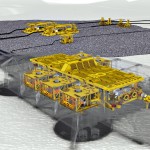 Viscos gaming technology could allow you to visualise oil installations, allowing you to virtually walk on them, notes TUJobs.
Using keyboards, game consoles or Oculus Rift VR glasses can help you move around different parts of an oil installation facility, find specific components, plan procedures, and find relevant information.
Currently, the technology is being used on the Ormen Lange, Mariner, and Goliath installations. According to Oystein Stray, CEO of Stavanger, visualization is about allowing the user to instinctively understand what something is without having to be an engineer.
By using game technology as a tool they can easily show the entirety and details of complex technological oil and gas installations. The models utilizes the work and the investment the company already carried out to design an installation.
Stray explains that they, in collaboration with the Ormen Lange model, have collected 20,000 files of information, systematized and modelled to one visual impression. This way the user will easily find the information they need.
"We are using tools that belong to the future. The oil and gas industry have to change their behaviour and not simply do what they always have, but think anew to be more efficient. There is a lot to save on daily operations through a field's lifespan. With the help of this visualization solution, we think you achieve better communication, learn faster, find relevant information fast and can make more efficient decisions," explained stray to Teknisk Ukeblad.