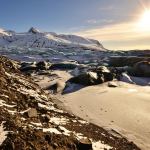 Blue Car Rental in Iceland is outlining how to travel safely in winter, as winter travel differs greatly from summer, whereby conditions become harsher and can change within an instant.
Winter in Iceland is a beautiful experience, where the country's greatest landmarks are covered in blankets of snow and freeze over. However, this does bring its own set of challenges.
Blue Car Rental states that snowy conditions are not the trickiest part of driving a rental car during winter. Most accidents occur due to ice on the road, especially when the temperature is around 0°C. The reason for this is due to black ice – when the ice on the road is not visible and the road looks ice-free. Blue points out to pay special attention to road conditions when the temperature is around freezing.
The car rental company prides itself in offering its customers with as much security as possible. Blue provides studded winter tires on all of its rental cars between 15th October 2014 and 15th April 2015.
Furthermore, Blue Car Rental offers all insurance for free (TP, GP, CDW, SCDW) for an added security and carefree vacation.
Blue Car Rental has a wide selection of vehicles suitable for all weather and road conditions including multiple 4×4 vehicles, including Suzuki Jimny (manual transmission), Hyundai Tucson (automatic transmission), and Toyota Land Cruiser (automatic transmission).
For more information about travelling in Iceland, and to rent a car in Iceland with Blue Car Rental, visit www.bluecarrental.is