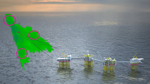 As stated in an article posted recently via TUjobs.com, the Johan Sverdrup oilfield in Norway is planning to expand to seven platforms by 2025. Eventually, the oil field will represent 25 percent of the total Norwegian oil platform production.
At a recent hearing, Statoil issued program proposals for the impact assessment of the building of the Johan Sverdrup oilfield.
The document will present possible scenarios for the expansion of the whole field, and the stages will be quantified. Statoil emphasizes that no final decisions are made concerning partnership and that there is still uncertainty connected to the timing and extent of the development.
The Johan Sverdrup oilfield expansion will be happening in four stages.
The first stage will be to establish the processes and operations for the future stages of the field. The riser platform of stage one is designed to fit future modules that can receive enhanced production from future development stages.
The second stage will be the construction of a freestanding wellhead platform east of the field, which connects to the field centre through pipelines and cables.
In the third stage, underwater production frames might be installed to connect the field centre with multistage flowlines.
At stage four, another freestanding wellhead platform might be placed in the Johan Sverdrup field.
The Johan Sverdrup field contains between 1.8 and 2.9 billion barrels of oil. More than 70 percent of the total resources of the field can be extracted through the installations of stage one, according to Det Norske, a partner of the Sverdrup license.
To follow the progress of the Johan Sverdrup oilfield, and to find out more about the oil industry in Norway, visit www.TUjobs.com.