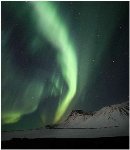 Leading Icelandic coach and bus tours provider Reykjavik Excursions is offering Northern Lights tours in Iceland with a twist.
The company's Warm Baths & Cool Lights tour takes passengers to Fontana geothermal spa in Laugarvatn before leaving to hunt down the magical dancing lights in the sky. Another includes combining a Super Jeep ride to experience the Northern Lights with a lobster dinner in a cosy restaurant.
In addition, Reykjavik Excursions provides the opportunity for customers to experience the Northern Lights by boat. Passengers can conveniently depart from Reykjavík's old harbour in a luxurious boat called Rósin, viewing the beautiful coastline of the capital on the way out to search for the lights.
The company also offers customers the chance to experience the Northern Lights from Langjökull, Iceland's second largest glacier, in a specially modified 8×8 Monster Truck. Professional guides teach passengers about the Northern Lights, the glacier, local nature, and additionally tell some stories about the surrounding area while light refreshments are on offer in the glacier hut.
Visit www.re.is to read more about Reykjavik Excursions' unique Northern Lights tours.