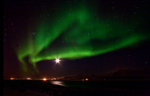 Blue Car Rental, a leading car rental company in Iceland, is now preparing for the winter travel season after a successful summer, whereby its customer base has grown significantly.
Blue Car Rental is making sure that all of its vehicles are suitable for a safe and enjoyable travelling experience across Iceland's snow-covered landscape.
During the winter months, Icelandic roads can be tricky to navigate; however, with good tyres and well equipped cars like Blue Car Rental offers, there is nothing stopping visitors explore Iceland at it's harshest yet most beautiful time of the year.
In winter, the wonderful Northern Lights shine the brightest when it gets colder. The shortage of daylight can be very calming and Iceland's beautiful scenery completely transforms. Along with this, a great deal of winter season related activities are available providing opportunities unique to Iceland.
A variety of SUV and 4×4 vehicles are available at Blue Car Rental, which are all suitable for all weather and road conditions including Suzuki Jimny (manual transmission), Hyundai Tucson (automatic transmission), and Toyota Land Cruiser (automatic transmission). As a family-run business, the company offers services in that manner and its top priority is customer service.
Blue Car Rental's customers can choose their preferred pick-up locations; delivered on arrival, at their hotel, at the Blue Lagoon, or at any other place of convenience. The company offers pick-up and drop off at any time during the whole day, 24/7.
To learn more about Blue Car Rental and its services, visit www.bluecarrental.is
Image: flickr.com/olafur