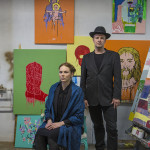 Artists Auður Ómarsdóttir and Snorri Ásmundsson will be participating in the international arts festival, La Calaca (www.lacalacafestival.org) in San Miguel de Allende, Mexico, on October 31st – November 3rd 2013.
The artists were invited to take part in the festival now being held for the second time. The festival takes place around the celebrated Day of the Dead / Día de los Muertos, which is a national holiday in Mexico annually on the 1st –2nd November. During this time, families gather and pray for lost family members and friends. Mexicans celebrate death and in their beautiful ornamental Catholic way, they view death as a respectable, humble and an unavoidable part of life.
Death is a very big part of all life, obviously, yet it's the most mystical part of life. It's quite an unknown phenomenon which many have riddled over. Or, can we say, that death really is just a simple disappearance? Something that was, just simply is not anymore. Now our philosophers start itching, when does something really disappear? And, is there anything that is nothing?
The Icelandic artists want to research these topics and try to adopt some of the Mexican ancient views on this huge phenomenon. By taking part in this celebration they will try to personify death in a performance and make death experience its own death through life. The performance has the name Danza de la muerte, the Death Dance. The artists expect a dramatic outcome, full of emotion. Their experience of the Mexican view will affect their work and at the same time they will show drawings that are all done in Iceland and are inspired by death.
A few years ago, Snorri Asmundsson put an ad in the newspaper, looking for a dead body for an art piece. It stirred a lot of people and started a debate amongst priests who did appear on national television to criticize this absurd idea of the artist. The artist wanted to do the work with the approval of the dying person and document the process of death. Snorri still has these ideas and wants to get inspiration in Mexico for the artwork. This performance at La Calaca will be in dialogue with his former death topics in his artwork.
Snorri has also been selling absolution letters, and is tempted to sell them in Mexico. Mexicans are generally Catholic and the absolution letters are based on a Catholic model, so he hopes the letters will be a big hit. Snorri thanks God for letting him be his voice and being able to give people his blessing and absolution through his letters. Some may get total absolution and have all their sins removed and be safe to enter the next life without any worries.
For more information about Snorri's work, visit his website http://snorriasmundsson.com