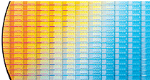 Intel's Embedded Design Center (EDC) is helping today's developer industry by providing access to tools, online advice, evaluation kits, samples and reference designs.
Manufacturers require opportunities made possible by tomorrow's digital factory and the emerging Internet of Things. Intel's next generation industrial solutions based on the Intel® Atom™, Core™, and Xeon™ processor ranges enable manufacturers to go market faster than ever before, giving factory owners a competitive edge.
Today's developers are being asked to work quicker, smarter and to do more within a tighter schedule. This requires a focus on re-use, high-performance and connectivity. As an experienced manufacturer itself, Intel understands these challenges and is committed to a product portfolio and customer support programme that helps developers confidently meet deadlines with innovative solutions.
Relying on anything less than the latest innovative solutions, quality tools and technologies can be disastrous for today's developers. Intel prides itself on delivering the widely adopted and supported Intel® Architecture as well as solutions, products, and partnerships of superior quality so developers can confidently focus on the work at hand.
For more information regarding Intel's commitment to the developer industry, click here.