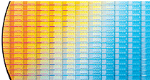 Intel has recently released an infographic covering how its intelligent systems are redefining and changing the IT industry, from innovation, consolidation, manageability, security, and Industry 4.0.
This infographic explores the evolution of Industry 4.0, the continuous innovation at Intel, how the company delivers connectivity, security and manageability to enable shorter development times.
Intel brings to its industrial relationships nearly half a century of manufacturing experience and innovation, as well as deep expertise in cloud, data centres, and big data solutions. This expertise, in combination with the company's leading-edge solutions, uniquely positions Intel to help revolutionise the 21st century factory.
Intel provides a secure, manageable architecture that connects isolated systems for greater responsiveness, integrates workloads into a unified system to eliminate inefficiencies and drive down costs, and maximises analytical awareness and process visibility.
By delivering this solid foundation of connectivity, manageability and security, Intel is helping equip companies with the confidence to convert their system data into differentiating business values that create new paradigms for an industrial Internet of Things.
To find out more about Intel's IT industry innovation, check out the company's new infographic here.
For more information regarding Intel's industrial solutions click here.