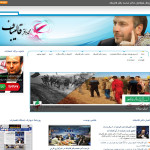 The upcoming 14th June 2013 election is one of the most important political events since the victory of the Islamic Revolution in 1979.
As the political race heats up, the active presence of a range of parties and movements shows the upcoming elections is unpredictable. At the same time it will set the destiny for the country in its 11th presidential elections.
The virtual world in Iran has also been affected by this event and we are witnessing the publishing of information, ideas and analyses by different supporters, people and parties on a daily basis.
In this scenario, the presence of candidates in the virtual world is the new criteria for the upcoming elections. In this aspect amongst the candidates, Mohammad Bagher Qalibaf, has had a more diverse and different presence in the virtual world. Middle-eastern experts believe the wide range of activities by Qalibaf supporters in the virtual world is of the strengths of the Qalibaf campaign and is going to be decisive for his win in the eleventh elections.
From the variety of the supporter's website in the virtual world we can mention these sites: www.mardeamal.com, www.havadar.ir, www.havadarportal.ir. And each of them differ in approaches such as analytical, news and direct contact approaches with the supporters, alongside hundreds of weblogs of Qalibaf's supporters and diverse fan pages in social media like Facebook and Google+ have an active presence in Iran's virtual and political environment.
With the 42 million users of the virtual world in Iran (according to www.internetworldstats.com) which are estimated about 50% of the population a huge amount of experts believe that the virtual world have a decisive impact on the elections.
For more information and contact information please visit: