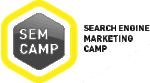 The seminar on SEO trends and online marketing for Western markets, Search Engine Marketing Camp (SEMCamp), is to be held at the President Hotel in Kiev, Ukraine, on 11th May 2013.
At SEMcamp, audience members will learn how to "survive" in a new aggressive Google algorithm; how to calculate the real value of SEO; and choose the right promotional strategy for a business.
The seminar will be of interest for the owners of businesses seeking to enter the Western markets, as well as SEO specialists, marketers, freelancers, in-house specialists and marketing agencies' employees.
The seminar program will be built primarily around two key speakers, Kristjan Mar (Nordic eMarketing) and Magdalena Sikora (New Look, Expedia); key speakers will present two speeches each. In addition, visitors will be able to hear speeches from Roman Dobronovsky, Anna Korolekh, Marina Ryashchikova, and Craig Bradford of Distilled, who blew up the audience with interesting cases about Link Building at the last year's SEMCamp conference.
The cost for participation at the seminar is $160, if booked before 21st April, and $185 thereafter – VAT is included. Within the cost, attendees will receive a seminar pass, information booklets, coffee during breaks, and more.
SEMCamp will feature nine speeches from six speakers, totaling three-hours of live communication, and expects 150 attendees.
For more information about Search Engine Marketing Camp, visit http://www.semcamp.ua/seminar/semcamp/.