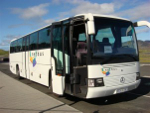 According to various sources, Iceland tourism is seeing a rise in bus rental popularity amongst tourists visiting the country. This mode of transport opens up the opportunities for diverse exploration of Iceland's hotspots and unique landmarks.
It has been noted that bus rental is especially popular around the cruise ship season in Iceland – between April and August – mainly due to the large number of visitors buses and coaches can hold, as well as being a customizable tailored tour.
Bustravel, a popular bus rental company in Iceland, offers 3 different sized vehicles depending on the needs of the visitor. The company offers a mini bus (12-25 people), a coach (40-50 people), and a large bus (60+ people). Each of its buses is equipped with everything needed for a relaxing and enjoyable travelling experience.
Bustravel prides itself in offering the best prices for tailored coach tours in Iceland, and can take visitors to the country's best landmarks, such as the Gullfoss waterfall, the Jokulsarlon glacial lagoon, and the black sand beaches of Vik.
To find out more regarding bus rental in Iceland, as well as tailored tours in Iceland, visit http://www.bustravel.is.