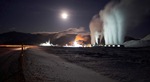 Iceland Geothermal Conference has announced that Sri Mulyani Indrawati will be giving a keynote speech at IGC 2013, as well holding a geothermal energy business exhibition, giving participants an opportunity to meet and exchange ideas.
Sri Mulyani Indrawati is the Managing Director of the World Bank, and is responsible for the Bank's operations in Africa, East Asia & the Pacific, Europe & Central Asia, Latin America & the Caribbean, the Middle East & North Africa and South Asia.
Before joining the Bank Group, Sri Mulyani served as Indonesia's Minister of Finance, at which time she guided economic policy for one of the largest countries in Southeast Asia, and one of the biggest states in the world, navigating successfully in the midst of the global economic crisis, implementing key reforms, and earning the respect of her peers across the world.
Sri Mulyani has received numerous honours and awards, including Euromoney Magazine's Global Finance Minister of the Year, and Emerging Markets Best Finance Minister in Asia. She has also been regularly on Forbes List of the 100 Most Powerful Women.
IGC 2013 will be holding a geothermal energy business exhibition where participants have the opportunity to meet and exchange information between possible technological/business partners. The exhibition will be will be the place to meet for utilities, investors, vendors, regulators, and government bodies to take an in depth look at the major steps in geothermal projects.
The aim of the Iceland Geothermal Conference is to increase awareness and emphasise the importance of geothermal energy. The overall theme of the conference is to focus on the geothermal value chain, and offer a hands-on experience covering the three-main phases of geothermal energy development.
IGC 2013 will be taking place at the Harpa Conference Centre in Reykjavik, March 5-8.
For more information regarding the Iceland Geothermal Conference, IGC 2013, visit http://geothermalconference.is/.