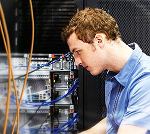 BIRMINGHAM, UK – (21-11-12) – In order for effective Network Performance Management, it's critical to fix network problems quickly and efficiently. When quality issues are undermining the benefits of using VoIP and mission critical business applications are not responsive, who gets the call? The Network Engineer.
In fact, whenever anyone experiences problems and they want quick answers, it seems to be generally assumed that there's a problem 'with the network. If the Cloud appears inaccessible or data stored at specific data centres is painfully slow to retrieve, the first person called is the Network Engineer.
Visual Performance Manager (VPM) from Fluke Networks enables network engineers to get to the source of a problem quickly – in Three Simple Clicks, and under 45 seconds, delivering highly granular insights that enable the issues to be identified and solved swiftly so that users can benefit from an optimised network.
VPM enables network engineers to deal with user queries in a very detailed way. Each individual user's IP address can be isolated to check online usage, find out what applications they are using, which servers are supporting their requests, and identify whether the problem lies in their device, on the network or the server, or within the business application.
Visual Performance Manager frees up time so that Network Engineers can develop, innovate and improve their networks, and ensure they deliver real business value as well as enhancing the role of the Network Engineer.
The 'Three Clicks to View ' is neatly shown in a free short video created by Fluke Networks to display the attributes of its Visual Performance Manager.
It takes just three minutes to see how it takes three clicks to view any network issue that arises on your network; download the free video, Three Clicks to View, right here.
Visit www.networkchallenges.com for a broader view of the challenges faced by Network Engineers, and testing and monitoring solutions delivered by the Visual line of products from Fluke Networks.