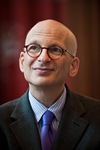 Upcoming marketing event in Iceland hosted by The Icelandic Marketing Association (IMARK) is set to feature a motivational speech from the author of the bestselling books Linchpin and Free Prize Inside Seth Godin. The IMARK event will be taking place on Thursday 29th November 2012, at Haskolabio, Reykjavík, Iceland.
Named one of the top 21 speakers for the 21st century by Successful Meetings magazine, Godin draws on his best-selling books and years of being a marketing pioneer to bring audiences of all kinds to their feet. This will be a special event as Godin rarely give talks outside of the U.S.; in fact, this will be the first time he has given a talk in Europe for over 2 years.  
Seth Godin is a leader in the field of motivational speaking and marketing help, with a total of thirteen bestselling books under his belt. His most recent book, We Are All Weird, calls for the end of mass and for the beginning of offering people more choices, more interests and giving them more authority to operate in ways that reflect their own unique, albeit sometimes weird, values.
As part of his enlightening lecture program, Godin focuses on the creative thinking necessary for a business to create a "purple cow" — an offering that stands out from the crowd and causes customers to take notice.
Using real-world examples from extremely successful companies, he reveals the benefits of using creative, remarkable thinking to transform business ideas and practices. Godin explores how ideas spread, why the stories companies tell matter, why treating customers with respect pays off, and how these and other business decisions determine whether your business becomes invisible or remarkable.
Furthermore, Magnus Scheving, successful athlete, entrepreneur, writer and producer, and the creator of LazyTown, will be giving a speech.
Additionally, George Bryant is a founding Partner at The Brooklyn Brothers, a company he started in London four years ago to help businesses find more modern and creative ways to connect with today's changing consumer.
For more information regarding the IMARK marketing event in Iceland, visit http://imark.is/imark/about-imark/seth-godin-in-iceland/.