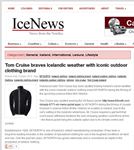 Online Scandinavian news channel, IceNews, recently covered the influx of celebrities visiting Iceland, including Tom Cruise, who was seen wearing a jacket from the popular Icelandic outdoor clothing brand 66°NORTH.
According to IceNews, celebrities including Tom Cruise, Russell Crowe, and Emma Watson have all been spotted visiting Iceland. The majority of those visiting were over for the shooting of various blockbuster movies, where the country's unique backdrop was used as the perfect filming location. As part of their time spent in the country, the actors were seen engaging in the nightlife and culture of Iceland, with Russell Crowe presenting his musical talents to the masses during Reykjavik's culture night.
In an article published on 2nd October 2012 on IceNews, it was announced that actor Tom Cruise was seen in support of the popular Icelandic outdoor clothing brand 66°NORTH during his time spent in the country.
During the filming of the upcoming science fiction film Oblivion, Tom Cruise was spotted wearing the Vik fleece jacket by 66°NORTH. Due to the set's setting in the Icelandic wilderness, Mr. Cruise required a garment that could easily withstand whatever the ever-changing weather could throw at him.
The Vik fleece jacket is known for its high performance in all climates, comfort, and its warmth. The jacket is made from a four-way stretch material with a brushed inner layer that pulls moisture away the wearer's skin, allowing for quick drying.
66°NORTH is one of Iceland's oldest manufacturing companies, established in 1926. It has been a long-time leading innovator in the creation of specialised clothing for use in the toughest conditions on land and sea. Over the past ten years, 66°NORTH has grown extensively and is considered an expert in the production of outdoor clothing.
66°NORTH is an authentic brand that draws upon 1000 years of history for inspiration. The company merges high quality technical fabrics with technical designs to satisfy the active user.
IceNews is an independent news resource on Iceland, Scandinavia and Northern Europe. IceNews covers articles on current events, politics, entertainment, culture, travel and forthcoming events in Scandinavia and around Northern Europe.
For more information regarding the 66°NORTH Vik fleece jacket, visit http://www.66north.com/shop/p-6771-vik-mens-jacket.aspx.
To view the original article via IceNews, visit http://www.icenews.is/index.php/2012/10/02/tom-cruise-braves-icelandic-weather-with-iconic-outdoor-clothing-brand/.