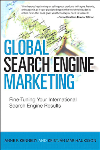 Co-author of the popular book on global search Global Search Engine Marketing, Kristjan Mar Hauksson, will be presenting a keynote on Using Data Insights to Sell More at the Webit Congress 2012 digital marketing event in Turkey.
Kristjan Mar will be presenting his keynote, Using Data Insights to Sell More, as part of the eCommerce track on day two, whereby he'll be giving his expert knowledge on SEO (Search Engine Optimization) in order to help expand your profits online.
The Webit Congress, taking place in Istanbul, Turkey, on 10th and 11th October, is an international event for the digital, technology and entrepreneurial ecosystem. This year the Congress will be focusing on EMEA emerging markets in Central-Eastern Europe, Middle East and Africa.
At the 2012 Webit Congress digital marketing event, guests will see all the leading EMEA digital and advertising industry professionals in one place; meet more than 6000 delegates from over 60 countries, explore new ideas and business opportunities; hear 150+ world-class thought-leaders sharing their knowledge and take part in engaging panel discussions; get to know future clients and partners, and showcase products during the 2-day Expo fair; explore the secret behind success stories from entrepreneurs about their fast growing, profitable Internet companies.
Kristjan Mar Hauksson is on the board of directors of SEMPO and founded the Iceland SEO/SEM forum. He has been involved in developing Internet solutions since 1996, and involved in Search Engine Optimization and marketing since 1999.
He is also the founder and director of search and online communications at Nordic eMarketing. The company specializes in multilingual online communications, organic Search Engine Optimization, and marketing through several verticals such as tourism, finance, government, and pharmaceuticals. It helps companies gain international visibility online and to use the Internet as a communication channel; it also provides consultation in web content management systems and analytics solutions.
To find out more about Webit Congress 2012, visit http://www.webitexpo.com/en/webit/2012/index.html.
To follow Kristjan Mar Hauksson via his blog, visit www.optimizeyourweb.com, and to follow on twitter, search for @optimizeyourweb.