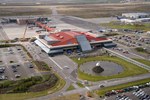 Keflavik International Airport (KEF) in Iceland has registered a higher than expected passenger increase for the first six months of 2012, with 3.2 percent more passengers travelling through KEF than previously predicted.
Arriving passenger numbers have already increased by 14.4 percent in comparison to those of 2011, with visitors arriving at KEF from the UK, Germany, Scandinavia, and North America. Additionally, departing passengers have increased by 12.2 percent.
The airport has also received new scheduled carriers EasyJet, Norwegian, WOW Air, and Primera Air. Airlines Icelandair, and SAS, have also increased their flight capacity.
Gudny Johannsdottir, Business and Route Development Manager at Isavia, the company operating Keflavik International Airport, explains, "This increase in passenger numbers over the past two years is a clear indicator that a new growing season of passenger traffic has begun. It has also been gratifying to observe how well received the new airlines and routes have been alongside many new passengers at KEF."
Interest in visiting Iceland has grown significantly over the past few years, with more and more tourists choosing Iceland as a holiday destination. The country's capital, Reykjavik, is also becoming a popular destination for live music and nightlife.
Furthermore, Johannsdottir will be discussing future airline routes and business incentives at KEF during the upcoming World Route Development Strategy Summit 2012 in Abu Dhabi, UAE, as Isavia is looking to expand the airport's network with new routes and customers who contribute to passenger growth. In order to achieve this, the company offers customers incentives including discounts on landing and passenger charges for new routes.
To find out more regarding Keflavik International Airport in Iceland, visit http://www.kefairport.is/English.
Keflavik International Airport has released the latest edition of its trade magazine, Airmail, which features up-to-date information on its business facilities. Click here to view it online